Become a distributor of the New Generation of Plastic Barricade.
It is an excellent business for companies looking for differentiated products that serve different segments, with guaranteed financial return and superior quality to similar competitors.
Special Conditions for 2020
Become a distributor
Register and our team will contact you with a distribution proposal.
Why Link Barricades?
Manufactured in Brazil in a single solid plastic polymer piece, with high performance and
reinforced structural design, the Link Barricade is the largest and most complete monoblock
plastic barricade in the world.
Advantages of being a Link Barricades Distributor
Annual Renewable Exclusivity in your Country
Supporting Digital Marketing Team

High Resolution Portfolio and folder kit
Real-time tracking of your order with photos and vídeos

Possibility of personalizing your logo on barriers

Flexibility: Divide your container with up to 8 colors
Premium raw materials with quality report
Possibility to customize the color and accessories
Exclusive and personalized accessories
Visit our factory in Brazil, you are our guest
With manufacturing in Brazil and commercial operation in:
- São Paulo - Brazil

- California - USA

- New York - USA

- Doha - Qatar

- Montevideo – Uruguay
Proven quality at the 2014 World Cup and 2016 Olympic
Games. Shipping Worldwide.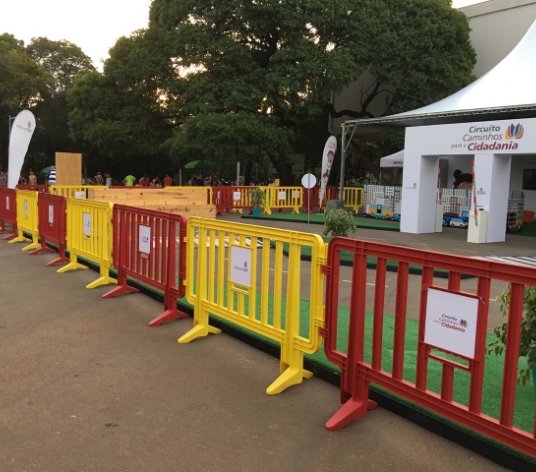 Multiple Applications:

Parking
Restaurant
Street Fairs
Carnivals

Construction
Sites
Police
Activities
Ski Resorts
Private Pools
Sporting Events
Universities
Military
Concerts

Airports
Stadiums
Parties
Rental
Companies
Malls

Casinos
Convention
Centers
Theatres

Zoo
Datasheet
| | |
| --- | --- |
| Width | 6.6 feet – 2,0m |
| Height | 3.6 feet - 1,1m |
| Weight | 26.4 pounds - 12 Kg |
| Feet length | 1,6 feet - 50 cm |
| Material | Polypropylene |
| Colors | 8 colors |
Accessories
Reflective Strip Kit for 1 Side
Central Sticker 13in x 11in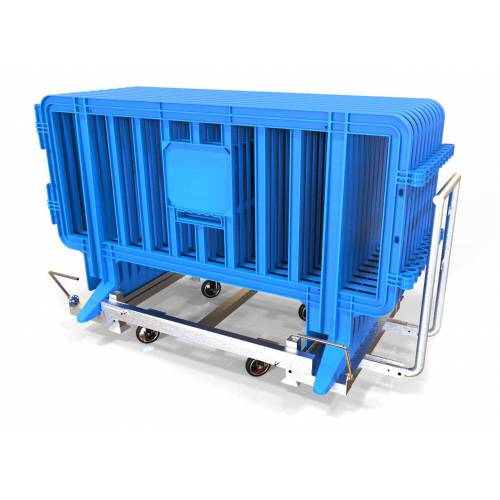 Foldable Stackable Rack
Gel Alcohol Dispenser KIT
Lona Front Light 1,2m x 0,61m
Plate of PS 2mm 13in x 11in
Stabilizer Shoe 17lbs
Comparative
| 16kg | Peso | 12kg |
| --- | --- | --- |
| | Advertising Area | |
| | Structural standard | |
| | Irregular ground connection | |
| | Ergonomic transport | |
| | Sustainable | |
| Low | Visibility | High |
| Yes | Maintenance | No |
Packaging
Cardboard angles and individual plastic film bags
Nearest port Santos BRSSZ
Shipping
Container 20 "- 210 units
Container 40 "HC – 450 units